II3IST is the call issued by italian authorities to the ARI section of Treviso to commemorate the centennial of Italian Air Forces. The award is organized by the ARI National this link is for the full rules. Instead this one is for the whole list of special call for the italian peninsula. II3IST is to celebrate the Italian Air Force Base of Istrana, located very clouse to Treviso. A special QSL card will be print for II3IST and must be required to the manager IU3LYJ.
This is a sample of the award.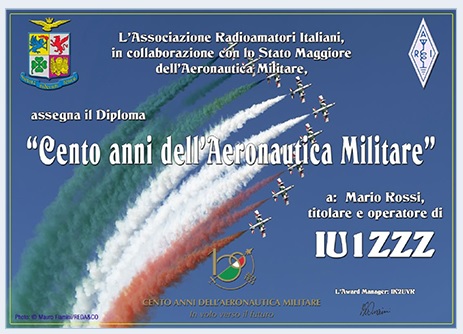 Radio amateur of Treviso ARI Section, will be active with the special call in all bands and modes for the entire period of the award.
The Italian Air Forces has been founded the 28 march 1923, before it was a group aggregate to the army. The first airplane group formed just before World War First on the areas of Friuli Venezia Giulia and Veneto very clouse to the enemy border and in particulary on the air fields in Udine, Treviso and Montello hills.
This is the coat of arm of Italian Air Forces.