YAESU FT101E VINTAGE TRANSCEIVER UPDATE PART TWO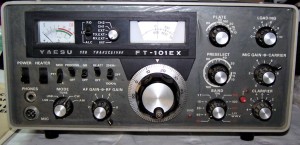 Si presume che l'apparato sia in buone condizioni e funzioni perfettamente, perlomeno in ricezione, altrimenti l'inserimento del filtro non ha senso.
It is assumed that the radio is in good condition and works perfectly, at least in reception mode, otherwise the installation of the filter does not make sense.
Per questo lavoro mi sono aiutato, seguendo le istruzioni, del manuale di istruzioni del Yaesu FT101E che è disponibile per la visione e il download qui.
For this installation I helped myself, following the advice, of the instruction manual of the Yaesu FT101E which is available for reading and download here.
Prima cosa togliere il coperchio superiore e individuare sulla sinistra verso il pannello frontale i due circuiti stampati,interessati, PB-1315A e PB-1183B inseriti verticalmente a pettine.
Step one, remove the top cover and locate the two printed circuit boards PB-1315A and PB-1183B inserted vertically by comb, on the left side towards the front panel.
Le prossime quattro foto mostrano il filtro da inserire e l'individuazione dei due circuiti stampati.
The next four pictures shown the filter XF30C and the location of the two circuit board.
Svitare le due viti che tengono fissato il circuito stampato PB-1315A alla squadretta ad U, adesso si può rimuovere il circuito stampato PB-1315A, estraendolo scuotendolo molto dolcemente dal connettore fissato sullo schassi metallico inferiore.
Remove two srews holding PB-1315A to the U shaped bracket. Remove PB-1315A from the chassis connector receptical, gently, rock the circuit board out of the connector.
Le prossime foto illustrano le operazioni.
These operations are shown on the next pictures.
Secondo passo rimuovere lo schermo metallico fra i due circuiti. Svitare le viti al centro delle squadrette ad U che le tengono solidali allo schermo verticale. Togliere anche le due viti sul bordo inferiore ad L dello schermo che lo tengono fissato allo shassi, sfilare lo schermo.
Step two, remove the metal screen between the two circuits. Remove the two screws holding the U bracket to the shied plate. Remove the two screws holdind the shield plate on the bottom and lift out of the cabinet. 
Altre due foto per vedere l'operazione. In particolare nella seconda foto si vedono i due fori dove erano avvitare le due viti nella parte bassa ad L dello schermo. Le squadrette ad U vanno lasciate attaccate al PB-1183A.
Two more pictures. On the second one we can see the two holes, on the bottom, where the plate shield is fixed. Leave the U shaped brackets attached to the PB-1183A.
Terzo passo rimozione del circuito stampato PB-1183A, dove bisogna installare il filtro. Lasciando la squadretta ad U fissata al circuito stampato, estrarlo dal connettore fissato sullo schassi metallico inferiore. scuotendolo molto dolcemente.
Third step. Grasping the U shaped brackets still attached to the PB-1183A, gently, rock the circuit board out of the connector.
Altre quattro foto per documentare l'operazione appena terminata. Lo schermo, i due connettori vuoti e entrambi i lati del circuito stampato PB-1183B.
Four more pictures to document the operation just performed. The plate shield, the empty connectors and both side of PB-1183B.
Quarto passo, installazione del nuovo filtro XF-30C. Dal manuale del FT101E abbiamo ricavato questo disegno con le linee guida del lavoro.
Fourth step, installation of the new XF-30C filter. From the FT101E manual we use this drawing which shows us the guidelines of the work.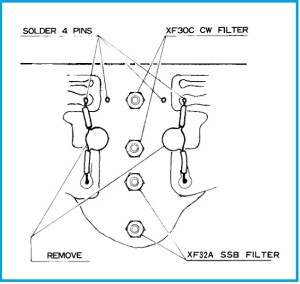 Bisogna dissaldare i condensatori ceramici C9 e C10 dal lato saldature dello stampato PB-1183A. A questo punto inserire il filtroXF-30C nel suo alloggiamento, due viti con dado e rondelle per il fissaggio e i quattro reofori in linea da saldare. Devo dire che ho dovuto ripassare i due fori per le viti con una punta da trapano da 3 mm perchè sul circuito stampato erano da 2,5 mm, poi ho ripassato i fori dei reofori con una punta da 1,2 mm. A questo punto è entrato perfettamente. L'ho fissato con i bulloni e rondelle originali e ho saldato i quattro reofori con un saldatore instantaneo da 120 W usando stagno da 0.8 mm e pasta salda.
Remove by unsoldering, the two ceramic capacitor C9 and C10 of .01 uF each. Before to install the filter, i had to enlarge the two screws hole from 2,5 mm to 3 mm and the four holes of the filter's terminals with a 1,2 mm drill bit. Now the filter mathc perfectly all holes therefore i fixed it with nuts and lockwashers provided, at the last i welded the four terminals with a instantaneous solder iron of 120W usind 0.8 mm diameter tin wire.
Il lavoro principale è finito. Adesso non resta che rimontare seguendo l'ordine inverso. Prima, però, è meglio spruzzare un pò di disossidante spray secco nei conettori vuoti, anche se si sono conservati perfettamente. Nella prossima foto si vede Il PB-1183A inserito, da sopra si intravvede il nuovo filtro CW.
The main job is finished. Now we have to reassemble all components in reverse order. Better to spray a little dry deoxidizer in the empty connectors sockets, even if they are perfectly preserved. In the next picture we see the PB-1183A inserted, from the top appear the CW filter just fitted.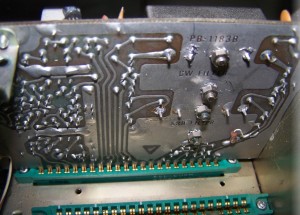 E per finire si rimonta lo schermo e il circuito stampato PB-1315A. Seguono anche le foto.
At the end we assemble the plate shield and the PB-1315A, as the photos.
Se qualcuno ha qualche richiesta o consiglio, potete lasciare un commento, alla fine di questo articolo o via email: fiorino_i3fdz@yahoo.it
For any requirement or suggestion leave a comment at the end of article or email to: fiorino_i3fdz@yahoo.it
Fiorino/i3fdz