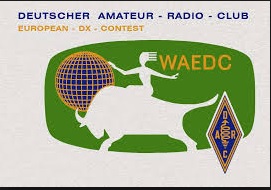 Wae cw contest 2017
Il contest più difficile dell'anno è appena terminato. Le stazioni europee dovevano collegare solo stazioni fuori dall'Europa. La propagazione è stata in linea con la fase del ciclo solare. Durante il weekend 12/13 agosto c'è stata la media di dieci macchie solari.
The most difficult contest of the year is just over. The European stations had to connect station outside Europe. Propagation has been as prediction related to solar cycle. During weekend 12/13 august the average sun spot was ten.

Ho partecipato al Wae cw contest 2017 nella categoria Singolo Operatore Low Power. Ho sentito la mancanza di un po' di potenza specialmente nelle bande basse 40 e 80 metri. I due elementi cubica quad dell'italiana PKW, invece, hanno fatto il loro dovere nelle bande 20, 15 e 10 metri.
My entry is on Single Operator Low Power category. I suffered the low power rating especially on low bands 40 and 80 meters. Instead, the Italian made, PKW, two elements cubic quad performed a good job on the high bands 20, 15 and 10 meters.
Le condizioni di propagazione e il setup mi hanno permesso di fare 441 qso e ricevere 777 qtc. Sono proprio questi ultimi che lo differenziano e lo rendono impegnativo. Le stazioni europee devono cercare di farsi trasmettere, dalle stazioni extraeuropee gruppi di dieci qtc. Chi non sa di cosa si tratta questo è il collegamento al regolamento ufficiale della DARC, l'associazione tedesca organizzatrice.
The propagation conditions and setup, allowed me to make 441 qso and 777 qtc. The qtc differentiate and make it challenging. European stations had to try receiving as much as possible qtc from Dx stations. If you don't know the meaning of qtc, this is the link to official rules of the DARC, the German association organizing the contest.
I qtc vengono trasmessi a velocità molto alta. Bisogna concentrarsi nella ricezione specialmente con stazioni con segnali bassi. E' necessario essere lesti con il CW e la tastiera per riceverli in tempo reale. Il programma logger QARTest di ik3qar è molto di aiuto sia nella ricezione in tempo reale sia nel controllo successivo utilizzando la registrazione.
Qtc are transmitted at very high speed. We have to concentrate during the reception especially with low signals. It is necessary to be fast with CW and have familiar with PC keyboard to receive them in real time. But the logger program QARTest help us both in real time and after the contest utilizing the recorder files.
In attesa dei punteggi dichiarati allego il rapporto particolareggiato del mio log prodotta da QARTest. Nel prossimo post pubblicherò la mia bar graph ora per ora e lista dei moltiplicatori.
Waiting the declared scores i include my log's report from QARTest. In the next post I'll publish the hourly bar graph and multipliers list.
WAE CW Contest 2017 – Sommario e Statistiche per I3FDZ
Time ON : 32:01 Ore
Time OFF: 12:27 Ore
Wae cw contest 2017 SUMMARY QSO/POINT
BAND QSO QTC CTRY C.A. DUP POINT AVERAGE
———————————————
80 25 0 28 40 0 25 1,00
40 101 113 36 48 0 214 2,12
20 276 625 50 58 10 901 3,26
15 34 29 26 24 1 63 1,85
10 5 10 6 2 0 15 3,00
———————————————
TOT 441 777 146 172 11 1218 2,76
Score: 1218 Points/QSO x 318 Mlt. = 387.324 Points
Wae cw contest 2017 Continent QSOs
Cont. 10 15 20 40 80 Tot. Perc.
——————————————————-
EU 0 0 0 0 0 0 0,0%
AS 4 19 55 19 10 107 24,3%
AF 1 3 6 3 2 15 3,4%
OC 0 2 2 1 0 5 1,1%
NA 0 7 206 77 13 303 68,7%
SA 0 3 7 1 0 11 2,5%
——————————————————-
Total 5 34 276 101 25
Wae cw contest 2017 Best Rates
Best QSO/hour QSO Period Hour
——————————————
10 min 72 12 2224…2233 12/08
20 min 66 22 2223…2242 12/08
30 min 60 30 2222…2251 12/08
60 min 43 43 2222…2321 12/08
120 min 29 58 2222…0020 12/08
Wae cw contest 2017 Multi-Band QSO
—————
1 band 211
2 bands 67
3 bands 19
4 bands 6
5 bands 3
Fiorino/i3fdz