WAE cw Contest 2018 Comments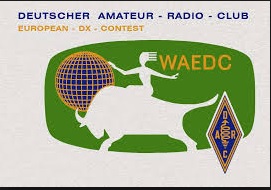 Anche quest'anno il WAE cw Contest 2018 si è svolto in condizioni di scarsa propagazione, con segnali deboli ma stabili specialmente dall'Asia, sud America e Oceania. Segnali più forti, invece, dal Nord America. Abbastanza qsb ho riscontrato sulle bande basse, dove sono stato un po' penalizzato dalla mia categoria di partecipazione " Singolo operatore bassa potenza".
Also this year the WAE cw Contest 2018  took place with scarce propagation conditions. On high bands, weak but stable signals especially from Asia, South America and Oceania. Quite good signals from North America. On low bands there was a lot of qsb and the low power category in with I participated, has been penalize me.

Con impegno e tenacia, tutti I continenti erano lavorabili in quasi tutte le bande. L'anno scorso mi sono classificato al ventesimo posto assoluto. Quest'anno ho ottenuto un punteggio maggiore cercando di curare maggiormente la caccia ai moltiplicatori. Spero di migliorare la posizione.
With diligence and tenacity, all continents were workable on almost all bands. The last year i got the 20th place. This year i reached a score higher than last year trying improving multipliers searching. I hope to climb a few position.
Questa è tabella sommario generata dal programma logger qarTEST.
These is the Summary table generated by the Italian program logger qarTEST.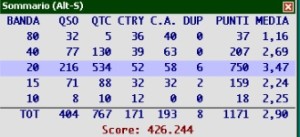 Queste sono le tabelle dei moltiplicatori per ciascun continente.
These are the multipliers tables for each continent.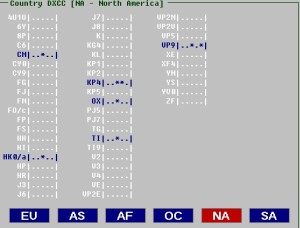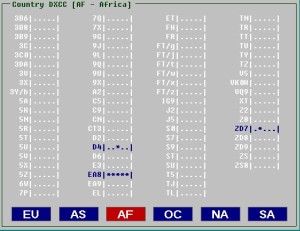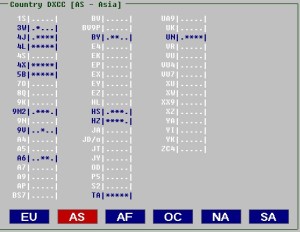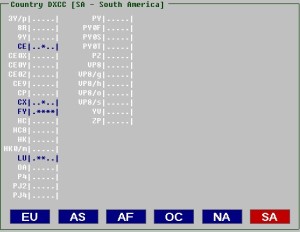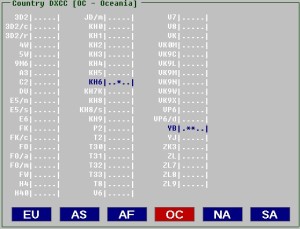 Questa è la tabella dei moltiplicatori delle Call Areas lavorati.
These is the table of the Call Areas multipliers worked.

Ho operato poco meno di 36 ore. Il grafico orario della prossima immagine mostra la distribuzione del traffico nelle 48 ore.
I have operated for a little bit less than 36 hours. The hourly chart of the next image shows the traffic distribution in 48 hours.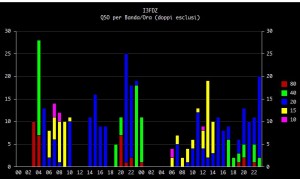 Le mie condizioni di lavoro per questo contest sono state: rtx Kenwood TS 850 sat max power 100 W. Antenne, due elementi cubica quad tipo spider per 10/15/20 della PKW massima altezza 16 metri, doppio dipolo a V invertita per 40/80 auto costruita, con singola alimentazione e vertice a 13 metri. PC con Windows xP e programma di logging qarTEST, di Paolo ik3qar, con funzionalità di registrazione dell'audio Rx e generatore di CW.
My working conditions for this contest are: rtx Kenwood TS 850 sat max power 100 W. Aerial, two elements cubic quad for 10/15/20 of the Italian PKW max height 16 meters, bouble dipole invert V single feed, home made, for 40/80, with top at 13 meters. PC with xP and logging program qarTEST made by Paolo ik3qar with functionalities of recording rx audio and CW generating.
Fiorino/i3fdz