IARU HF WORLD CHAMPIONSHIP CONTEST 2020 DECLARED SCORE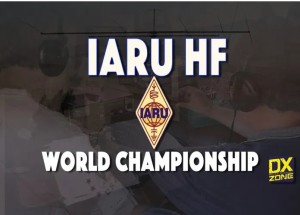 Saturday 11  july, afternoon, the first day of IARU HF WORLD CHAMPIONSHIP CONTEST 2020, the weather was very bad indeed. In my area, in the northeast of Italy, between Adriatic sea's coasts and the mountain range Alpi, heavy thunderstorms, lightning and rain showers with violent gusts. All bands was very noisy owing strong QRN, impossible operate. I had better to switch the antennas to ground for the whole afternoon until the evening.
Sabato 11 luglio, pomeriggio, il primo giorno del IARU HF WORLD CHAMPIONSHIP CONTEST 2020, il tempo è stato davvero pessimo. Nella mia zona, nel nord-est dell'Italia, tra le coste del mare Adriatico e la catena montuosa delle Alpi, forti temporali, fulmini e rovesci di pioggia con forti raffiche di vento . Tutte le bande erano molto rumorose a causa del forte QRN, impossibile operare. Ho commutato le antenne a terra per tutto il pomeriggio fino a sera.
Here is the link to the "Log Received" on the ARRL web site. My declared score is very rubbishy as i have operate for five hours only. Below my time graph, and the summary generated by contest logger QARTest.
Ecco il link per vedere i log ricevuti dalla ARRL che gestisce il contest. Il mio punteggio dichiarato è molto basso perché ho operato per solo cinque ore. Di seguito il mio grafico con le operazioni nel tempo e il sommario generati dal contest logger QARTest.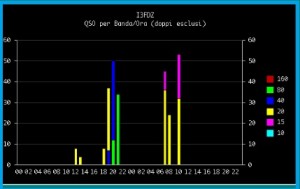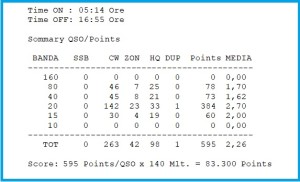 Fiorino/i3fdz