ARI INTERNATIONAL DX CONTEST 2017.  Claimed scores
I punteggi dichiarati sono stati pubblicati sul sito A.R.I. nazionale dedicato al nostro contest. Fino alla pubblicazione dei risultati finali nessuno può cantar vittoria e le stazioni al secondo, terzo e quarto posto possono ancora sperare.
On A.R.I.'s web site have been issued the claimed scores. Until the publication of final results no one can said to be a winner. Even stations scored on second, third and fourth place can hope.
Chi è sicuro di vincere, anche dopo il controllo dei log, è LZ9W nella categoria Multi Operatore Multi Tx Dx perché è l'unica stazione classificata nella categoria.
One station is sure to be a winner also after the logs check by the Committee. LZ9W on category Multi Operator Multi Tx Dx is the only station on that category.

Ora posso fare dei commenti positivi sulla partecipazione. 1320 logs inviati, circa 19% in più dell'anno precedente. Quasi 18% in più di logs da stazioni Dx pari a 1006. 314 logs da stazioni italiane, di poco superiore al 20%. Spero che il trend continui in questa direzione il prossimo anno anche se la propagazione non ci aiuterà.
At the moment I'm able to make positive comments about the participation. 1320 logs sent to Committee, about 19% more than last year. Almost 18% more from Dx stations equal to 1006 logs. 314 logs from Italian stations, a little bit more 20%. I hope trend continues toward this direction for the next year even thought propagation will not help us.
Aggiungo il diagramma prodotto dal logger QARTest della mia attività nel contest.
I add the diagram generate by logger QARTest about my activity on contest.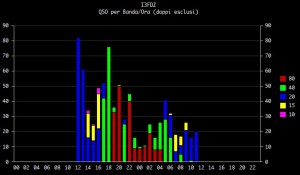 Fiorino/i3fdz