ARI INTERNATIONAL DX CONTEST 2020 CLAIMED SCORES
The Ari International Dx Contest 2020 claimed scores, have just been published on the committee's web page on the ARI website. Both, the italian one  and the Dx.
I punteggi dichiarati dell'Ari International Dx Contest 2020 sono stati appena pubblicati sulla pagina web del comitato sul sito web dell'ARI. Sia quelli delle stazioni italiane sia quelli delle stazioni Dx.
Here i public an abstract of the top ten stations of all categories.
Qui pubblico un riassunto delle prime dieci stazioni di tutte le categorie.
DX stations.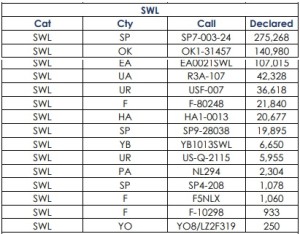 This year owning health crisis there are not the multi operator categories, as IARU recommendation.
Quest'anno a causa della crisi sanitaria, non ci sono le categorie Multi Operatore come da raccomandazione della IARU.
And now the italian stations top ten claimed scores.
Seguono i punteggi dichiarati dei primi dieci di tutte le categorie delle stazioni italiane.
 That's all. I'll write the next article with comments on the Ari International Dx Contest 2020 after the publication of the official final results. Last year they were published  in December. In the meantime, I will post information and comments on the WPX Contest, the IARU Contest and the WAE Contest.
Questo è tutto. Il prossimo articolo con commenti sull' Ari International Dx Contest 2020 li scriverò dopo la pubblicazione dei risultati finali ufficiali. L'anno scorso sono stati pubblicati in Dicembre. Nel frattempo posterò informazioni e commenti sul Contest WPX, sul Contest IARU e sul Contest WAE.
The full Ari International Dx Contest 2020 claimed scores are here
I punteggi dichiarati completi dell'Ari International Dx Contest 2020  li puoi raggiungere cliccando qui.
Fiorino/i3fdz