I'm going to buy a new radio soon. I think to buy one the my favorites ones Kenwood TS-990S TS-890S.
Presto ho intenzione di acquistare una nuova radio. Credo mi orienterò verso una delle mie preferite Kenwood TS-990S TS-890S.
I'm using Kenwood radio since 1985. First the TS-430S, i bought it new and later i added the options: FM module and the CW filter. Whit this radio i performed a lot of QSO mostly in CW mode specially in the conests. I won two ARI International Dx Contest in the 1986 and in the 1992. I taken it with me, for mobile operations, during my holliday in Greece in the 2005 and i used it from Elafonissos Island with the call SV8/I3FDZ/P during the IOTA Contest. I taken with me also in the 2008 during my holliday in Favignana Island from where i have partecipate to IOTA Contest with the call IF9/I3FDZ/P. More two fast mobile operations from Monaco 3A in the 1994 giving me another thousand QSO from there. I think yhe Kenwood TS-430S is a rock. Always used at full power. Always worked perfectly. Never repaired. Still used in my station as spare radio.
Ho usato radio Kenwood fin dal 1985, il primo che ho comprato è stato il TS430S, nuovo, successivamente ho aggiunto il modulo FM e il filtro stretto per CW. Con questa radio ho fatto moltissimi QSO principalmente in CW e operando nei contest. Infatti ho vinto due ARI International DX Contest, nel 1986 e nel 1992. L'ho portata con me in vacanza in Grecia nel 2005 con cui ho partecipato al contest I.O.T.A. dall'isola di Elafonisson con il nominativo SV8/I3FDZ/P. Poi l'ho portata anche in Sicilia nel 2008 da cui ho partecipato al contest I.O.T.A. dall'isola di Favignana con il nominativo IF9/I3FDZ/P. Inoltre nel 1994 ho fatto due rapide spedizioni a  Monte Carlo/3A da dove ho fatto circa mille QSO. Questa radio è ancora in servizio nella mia stazione radio che uso regolarmente come riserva ed è perfettamente funzionante. Devo dire che il TS-430S è una roccia. Non è mai andato in avaria e perciò mai riparato pur usandolo spesso alla massima potenza.
For this reason in the 1999 i bought another Kemwood the TS-850S. Few years later, I added the external Digital Signal Processor DSP-100, the narrow cw filter YK-88C-1 and the DRU-2. This one i keep fixed in the radio station for general use, normal QSOs, Dx stations, but especially in contest, both,barefoot at full power for Single Operator Low Power and with reduced power 50 W output followed by a power  amplifiers for High Power category. I had to change the capacitors gone bad. this is the unique repairing. I'm still using it  as main radio and it's working very well indeed. I'm completly satisfied of this radio too.
Per questo nel 1999 decisi di comprare un'altro Kenwood il TS-850S nuovo. Successivamente  ho aggiunto il processore digitale di segnali, esterno, DSP-100, poi il filtro stretto per CW della prima media frequenza, il YK-88C-1 e l'unità di registrazione digitale DRU-2. Questa radio è per uso fisso. La uso sia a piena potenza nei contest nella categoria  Singolo Operatore Bassa Potenza sia a potenza  ridotta, 50 Watt di uscita seguito dall'amplificatore lineare nei contest con la categoria Alta Potenza. Ho fatto un'unica riparazione, ho sostituito i condensatori elettrolitici che erano andati in perdita. Lo uso abitualmente come radio principale, specialmente in CW, sia per normali QSO sia per collegare stazioni Dx ma specialmente nei Contest, sono veramente soddisfatto anche di questa radio.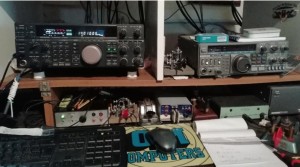 Nevertheless, I think now it is time to get a new radio. I want to try the new capability and potentiality of modern transceiver. I wish to stay faithful to the Kenwood brand because i have a lot of confidence in these radios. Therefore i have to decide which one i prefer: The TS-990S with fully potentiality, and 200 Watt output, or his small brother the TS-890S, with 100 Watt output and less potentiality and a little beet cheaper. I'll tell you which one i chose and how it works.
Nonostante questo, credo che è ora che mi compri una radio nuova per sperimentare e sfruttare tutte le potenzialità delle moderne apparecchiatture. Preferisco rimanere fedele al marchio Kenwood perché ho molta fiducia in queste radio. Comunque devo ancora decidere quale delle due comprare. Il TS-990S è il top delle caratteristiche con una potenza di uscita di 200 Watt. Mentre il suo fratello minore il TS-890S è comunque di ottima qualità, 100 Watt di uscita, con caratteristiche un po' inferiori e anche meno costoso. Vi farò sapere quale ho scelto e come va.
Fiorino/i3fdz