ARI INTERNATIONAL DX CONTEST 2020 RESULTS
The results of the ARI International Dx Contest 2020 were published very rush by manager Filippo iz1lbg. Both the results of the Italian and foreign stations, are on line, here the Italian ones and here the foreign ones.
I risultati dell'ARI International Dx Contest 2020 sono stati pubblicati molto rapidamente dal manager Filippo iz1lbg. Entrambi i risultati delle stazioni italiane e straniere, puoi leggerli sul sito web ARI,
qui quelli italiani e qui quelli stranieri.
My entry is in third place in the Single Operator Low Power CW. After three years of consecutive winning in this category, I'm happy to have been a target to beat for some one. I hope better for the next year.
I have won this contest five times: 
the first one in 1986 SO CW
second time in 1992 SO CW
third time in 2017 SO CW LP
fourth time in 2018 SO CW LP
fifth time, the last one, in 2019 SO CW LP
I'll try to win again the next year.
Io mi sono classificato al terzo posto nel Single Operator Low Power CW. Dopo tre anni di vittorie consecutive in questa categoria, sono felice di essere stato un obiettivo da battere per qualcuno altro. Spero meglio per il prossimo anno.
Ho vinto questo contest cinque volte:
la prima nel 1986 SO CW
seconda volta nel 1992 SO CW
terza volta nel 2017 SO CW LP
quarta volta nel 2018 SO CW LP
quinta volta, l'ultima, nel 2019 SO CW LP
Proverò a vincere ancora l'anno prossimo.
Here the top ten SO CW LP Italy:
Ecco i top ten SO CW LP Italia:

 (click to enlarge)
And now the top ten, on each category for foreign stations, an abstract from the ARI web site:
E ora i top ten di ciascuna  categoria per le stazioni straniere, dal sito ARI: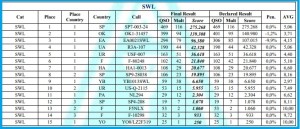 All other results with comments, information and statistics you will find on the ARI web site here.
Per tutti i risultati, commenti e statistiche andate sul sito ARI oppure su Radio Rivista di Luglio/Agosto 2020 dove sono pubblicati i risultati.
Congratulations to the contest manager, Filippo/iz1lbg, to public the Ari International Dx Contest 2020 Results very quickly.
Complimenti a Filippo/iz1lbg, contest manager, per aver pubblicato i risultati del Ari International Dx Contest 2020 Results molto rapidamente.
Fiorino/i3fdz