Andrea Doria Award by I.N.O.R.C.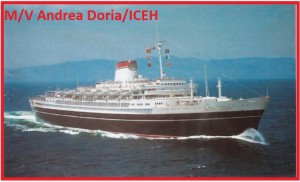 The picture is from Wikipedia. Click in to enlarge
I'm pleased to comunicate that the I.N.O.R.C. (Italian Naval Old Rhythmers Club) to commemorate the italian liner Andrea Doria/ICEH sunked at 1956 in the North Atlantic Ocean, organize a radio party with the special call sign II0ICEH and a Award dedicated to the histical event, Andrea Doria Award. The date is from july 18th to august 1st 2020. Here is the link to the full application. 
Sono felice di comunicarvi che l'I.N.O.R.C. (Italian Naval Old Rhythmers Club), per commemorare l'affondamento del transatlancico italiano Andrea Doria/ICEH, affondata nel nord Atlantico nel 1956, ha organizzato un qso party utilizzando lo speciale nominativo II0ICHE e un diploma per ricordare all'evento storico, Andrea Doria Award. La data è dal 18 luglio al 1 agosto 2010. Questo è il link per vedere l'evento completo.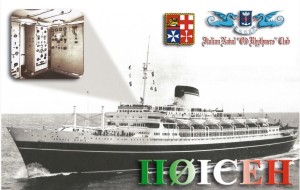 This qsl card will be send by the I.N.O.R.C., via bureau, to all the stations that will contact II0ICEH.
More infp also on qrz.com II0ICEH.
I'm I.N.O.R.C. member no. 168. I invited you to join the event and enjoy it.
Il mio numero di iscrizione all'I.N.O.R.C. è 168. Ti invito a partecipare all'evento e spero che ti piaccia.
Fiorino/i3fdz