Heathkit SB220 Power Amplifier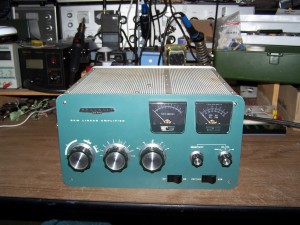 Part one.
Dal 1995 sto usando l'amplificatore lineare Heathkit SB220. L'ho comprato usato dall'OM ligure che l'aveva acquistato e montato nel 1980. Quest'anno ho voluto modernizzarlo per tenerlo al massimo delle prestazioni.
I'm using a Heathkit SB220 since 1995. I bought it used. It has been built in 1980 by an Italian Amateur. This year I wanted to modernize it to keep it at a good level of performance.
Ho deciso di usare il kit RM-220 della Harbach Electronics. Il kit permette di sostituire completamente il sistema di retificazione e i circuiti di misura del PA.
I decided to use the RM-220 Harbach Electronics kit. It allows to sostitute the entire rectifier system and the meters circuits.

Il lavoro è stato documentato da foto che permettono di seguire facilmente l'operazione passo passo.
I took a few photos in order to follow easier the work step by step.
Per primo bisogna disconnettere il PA dalla rete e scollegare tutti gli altri connettori. Entrata, uscita e cavi di controllo. Poi sistemarlo sopra un libro di adeguate dimensioni con il pannello frontale verso l'alto.
First disconnect the amplifier from the AC line, then remove any input, output and control cables from the rear panel. Place the amplifier on a book with front panel up.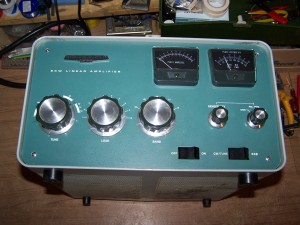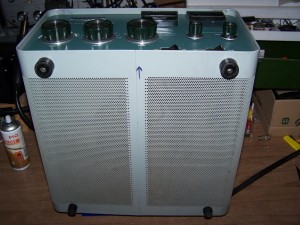 Svitare le quattro viti che tengono solidali i piedini e il contenitore esterno all'amplificatore. Sistemare viti e piedini in un posto sicuro.
Remove the bottom screws holding the feet and esternal container in place with amplifier. Put the screws and feet in safe place.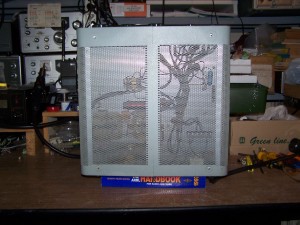 Far scivolare il contenitore esterno verso l'alto liberando l'amplificatore.
Lift the esternal container up and remove it from the amplifier.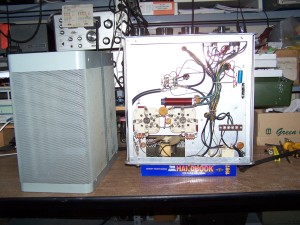 Rimettere l'amplificatore nel tavolo di laboratorio con il pannello frontale rivolto verso di noi.
Ora l'amplificatore è pronto per essere modificato.
Place the amplifier on the workshop's bench with the front panel facing you.
Now the amplifier is ready for modification.