YAESU FT101E VINTAGE TRANSCEIVER UPDATE.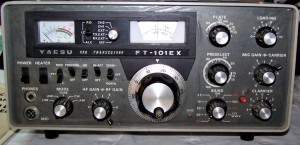 Prima parte. Part one.
E' stato il cavallo di battaglia della Yaesu dal 1970, anno di inizio produzione fino agli anni 80, sembra sia l'apparato, nelle varie versioni, più prodotto dalla Yaesu. Io l'ho acquistato in un duty free shop della Canal Zone di Panama nel 1974, in qui tempi ero di casa, per lavoro, in quei luoghi. L'ho pagato 500 US$ e il numero di serie è 5L 310554. Informazioni storiche sul Yaesu FT101E in questo link
It was the workhorse of the Yaesu from 1970, year of start of production to the 80s. It seems to be the apparatus, in the various versions, more produced by Yaesu. I bought it in a duty free shop of Panama, Canal Zone, in 1974, in that time I was working, in those places. I paid it 500 US $ and the serial number is 5L 310554. More historic info about Yaesu FT101E in this link.